MMM Hub++ Conference 2021
14 September
@
9:30 am
–
15 September
@
4:00 pm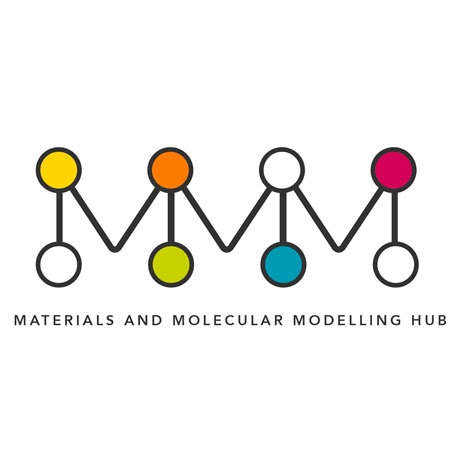 This virtual conference brings together researchers working in all aspects of theory and simulation of materials and molecular systems and is jointly organised by the UK's Materials and Molecular Modelling Hub, the Thomas Young Centre, CCP9, CCP5, CCPBioSim, the Materials Chemistry Consortium and the UK Car-Parrinello Consortium. The conference will cover topics including, but not limited to, biological and technological soft matter, functional materials and devices, structural materials, surfaces and interfaces and methods and method development.
Pre-recorded flash presentations

Instead of a traditional poster session, we will take advantage of the virtual format to invite participants, particularly graduate students, to contribute short (max. 3 minute) pre-recorded flash presentations about their research. These videos will be made available to conference participants both in advance and during the conference and we will make virtual spaces available during the conference for participants and presenters to meet to discuss.
14th September 2021
Designing molecular models by machine learning and experimental data – Cecilia Clementi, Free University of Berlin
Biomolecules and Biological Soft Matter
Biomolecular simulations with large scale density functional theory – Chris-Kriton Skylaris, University of Southampton
How carbon monoxide dehydrogenase converts CO2 to CO – Umberto Terranova, University of Buckingham
Functional Materials & Devices
Functional 2D materials – Kristian Thygesen, Technical University of Denmark
Bandgap engineering in strained monolayer and few layer MoS2 – Alex Armstrong, University of York
Methods & Method Development
Data-enhanced multi scale theory of operando energy conversion systems – Karsten Reuter, FHI Berlin
Recent theoretical development of Py-chemshell for calculating vibrational properties of transition metal containing zeolites – Jingcheng Guan, University College London
Biomolecules and Biological Soft Matter
Interscale simulations: a novel combined methodology to bridge between scales and methods – Andrey Brukhno, STFCHigh-performance computing and disordered elastic systems theory as a framework to study collective cell migration – Nirvana Cabellero, University of Geneva
Smart Droplets: can you fragment and deliver? – Francois Sicard, University College London

Functional Materials & Devices
External stimuli driven spin transitions and piezochromism in metal organic complexes – Hrishit Banerjee, University of Cambridge
Molecular Dynamics modelling of polymeric nanocomposites – Jacob Earnshaw, Sheffield Hallam University
Quantifying polaronic effects on charge-carrier scattering and mobility in lead halide perovskites – Lewis Irvine, University of Bath
Methods & Method Development
Bayesian optimization of atomic structures with gradient-enhanced Gaussian processes – Sami Kaapa, Technical University of Denmark
Linear atomic cluster expansion force fields for organic molecules – David Kovajcs, University of Cambridge
Encoding of distortions in perovskites for machine learning applications – Kazuki Morita, Imperial College London

Early Career Invited talks
Phonon screening of electron-hole interactions in lead-halide perovskite semiconductors and beyond – Marina Filip, University of Oxford
Modelling electrified interfaces from first principles – Clotilde Cucinotta, Imperial College London
Molecular structure at an interface – Ed Smith, Brunel University London
In-silico photochemical experiments with non-born-Oppenheimer Molecular Dynamics – Basile Curchod, University of Durham
Environmental sorptive materials at molecular level – Valentina Erastova, University of Edinburgh

Invited Day 2
Current landscape of UKRI activities – Billy McGregor – EPSRC, UKRI

Plenary Day 2
Searching for excitons: a fresh point of view – Lucia Reining, École Polytechnique Palaiseau, Paris

Surfaces & Interfaces
Exploring Fuel Cell cathode materials: Towards more representative models – Misbah Sarwar, Johnson Matthey
Machine Learning for Polarisable Force-Fields: Neural-Network models for Graphene-Electrolyte interfaces – Nicodemo Di Pasquale, University of Manchester

Functional Materials & Devices
Accurate multi-scale simulations for advanced functional materials – Otello Roscioni, MaterialX Ltd
Monte Carlo Simulations for Fitting Neurton Diffraction Data – Camilla Di Mino, UCL
Methods & Method Development
Solving the many-electron Schrodinger equations using deep neural networks – Matthew Foulkes, Imperial College London
Systematically Improvable Quantum Embedding for Real Materials – Max Nusspickel, King's College London
Surfaces & Interfaces
Unveiling novel properties and phases of mono-layer confined water – Venkat Kapil, University of Cambridge
Pursuit of accurate moelling to reproduce experimental properties of mono- and bi-metallic surfaces – Lara Kabalan, Cardiff University
Influence of Water Models on the Prediction of Desalination Properties of a Nanoporous Membrane – Aziz Ghoufi, University of Rennes
Functional Materials & Devices
Theoretical modelling of the electrochemical behaviour of the graphene and graphene-based materials – Natalia Martsinovich, University of Sheffield
Catalytic formation of oxalic acid on the partially oxidised greigite Fe3S4 (001) surface – David Santos-Carballal, University of Leeds
Defect-dependent corrugation in graphene – Fabian Thiemann, University College London
Methods & Method Development
Density functional embedded scheme for molecules and periodic systems – Manas Sharma, Friedrich-Schiller University of Jena
Accelerating Path Integral Calculations of Vibrational Spectra – David Wilkins, Queen's University Belfast
Importance of long-ranged electron interactions for the magnetic phase diagram of twisted bilayer graphene – Zachary Goodwin, Imperial College London
Surfaces & Interfaces
Towards the elucidation of the mechanism of hydrothermal synthesis of zeolites – Valeria Molinero, The University of Utah
Evaluation of methods for viscosity simulations of lubricants at different operational conditions – Dimitrios Mathas, University of Southampton

Structural Materials
Coarse-grained modelling of cement hydrates – Katerina Ioannidou, University of Montpellier
Co-substituted BiFiO3: thermodynamic, electronic and ferroelectric properties from first principles – Shivani Grover, University of Reading
Methods & Method Development
Chromonic liquid crystals: insights from simulations at multiple scales – Mark Wilson, University of Durham
Molecular-scale thermoelectricity: as simple as ABC – Ali Ismael, Lancaster University
Surfaces & Interfaces
Modelling Organic-Inorganic interfaces of Urinary Calculi – Rhiannon Morris, University of Leeds
Predictive model for adsorption of molecules through ab initio simulations – Paolo Restuccia, Imperial College London
Pentacene meets transition metal dichalcogenides for solar energy conversion – Juliana Morbec, Keele University
Structural MaterialsStructural Materials
Polytypism of inorganic lead halide perovskite – Zhenzhu Li, Yonsei University
Simulating the Charring of Phenol-Formaldehyde Resins with Reactive Molecular Dynamics – Marcus Purse, University of Surrey
Electronically Driven Cooperative Diffusion in Simple Cubic Calcium – Andreas Hermann, University of Edinburgh
Methods and Method Development
Towards an effective Hamiltonian for a proton transfer ferroelectric – Matthew Okenyi, Imperial College London
A machine learning description of excited states of functional organic molecules – Julia Westermayr, University of Warwick
Machine learning potentials for complex aqueous systems made simple – Christoph Schran, University of Cambridge
Scientific Advisory Committee
George Booth, King's College London
Richard Catlow, University College London
Georgina Ellis, OCF Ltd
Nicholas Harrison, Imperial College London
John Harding, University of Sheffield
Kim Jelfs, Imperial College London
Chris Lorenz, King's College London
Angelos Michaelides, University of Cambridge
Carla Molteni, King's College London Mark House,
HPE Matt Probert, UKCP & University of York
Andela Saric, University College London
Alex Shluger, University College London
David Wilkins, Queen's University Belfast
Organising Committee

Hafiza Bibi, Imperial College London
Paola Carbone, University of Manchester
Stewart Clark, University of Durham
Alin Marin Elena, Science and Technology Facilities Council
Arash Mostofi, Imperial College London
Catherine O'Sullivan, Imperial College London
Edina Rosta, University College London
Marco Sacchi, University of Surrey
Karen Stoneham, University College London
Scott Woodley, University College London
Event link:
Add to calendar:
Google Calendar
iCalendar